Raise High the Roof Beams (The Perfect Porch)
What are you waiting for??
The pandemic put us all in "wait and see mode". Big remodel projects around my house were certainly put on hold due to supply chain  issues and available labor.. That's starting to change worldwide and the screen porch my husband and I  dreamed of has commenced.  The rafters are raised!
But that doesn't mean its going to be finished any time soon!   Meanwhile summer itself has commenced with all its gorgeous evening hues.    
The other day it occurred to me I don't have to wait.  I can spruce up the lawn furniture  we have out back and add some flourishes.  Algae had grown on the glass table tops and pollen and dirt had not been scrubbed off  the hand me down  wrought iron furniture for two years.  On Sunday I purchased some neutral cushions at Home Depot and added an outdoor rug to keep the weeds at bay. The rug also creates a room like setting beckoning visitors to sit a spell.  Next up I'll add some pillows  to brighten  the space and maybe  a solar umbrella.  (Not from Costco)
The little siting area is crude, mean and small but it satisfies my urge to sit out under the summer stars.
                  .
 It doesn't take a lot.
Sig Berganmin
(a favorite designer) used vintage chairs and floral textiles to create this sweet retreat. 
 Curtains are also not a bad idea when living in tight spaces.
The latest craze is string lights which always amps up the ambience. String lights can transform the most minimalist setting into a a magical delight
Since we conceived the idea of the screen  porch addition, I've had my eye on this furniture from Anthropologie.  
Even if I don't snag this set, I'll use stripes somewhere.  Painted metal furniture is a must to conjure the screen porch life of my youth .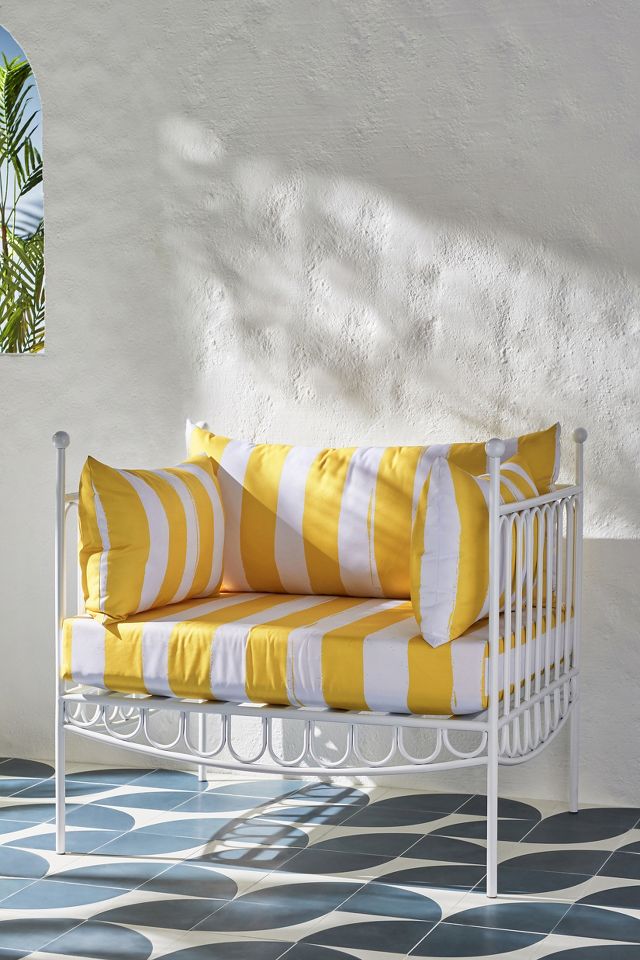 What else am I planning for our porch? Comfortable seating and a chaise for reading  a book.  Table lamps at night time  set the  mood.  String lights make everything festive. A floral or colorful stripe is absolutely nonnegotiable.
Even if your space is a tiny tacked on porch with room for only  a table and chair, there's no reason to ignore it. Only a few flourishes like a chair with a cheerful cushion,  table for drinks and a stool to rest your legs after a long day inside are the only requirements. Spruce the space up, add accents and make it livable with just a few flourishes. Don't wait for perfection.  There are only so many beautiful summer nights you can experience in a life time.
---
Next →
← Previous
Leave a Reply